Henrietta Okoro, HHCJ (College of Saint Mary, NE, '12), Pearland, TX
My story is very simple.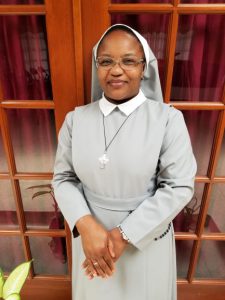 I am a Catholic nun from the eastern part of Nigeria, West Africa. I have been a nun for 31 years and am very happy serving God and humanity. I graduated with a nursing degree (BSN) from the College of Saint Mary (CSM) in Omaha, Nebraska, in 2012.
About two months before graduation, I received an invitation from the honor society to write my story about my leadership involvement at CSM. I hadn't much to write, apart from my two-days-a-week commitment with the women at Mercy Housing, where I provided health education services and illness prevention. And my once-a-week service at the Teen Pregnancy Center, where I passionately and empathetically listened to their stories and provided them with words of encouragement. While writing my story, I knew that there were other students who had given more time to community service than I had, so I was not expecting my story to move a mountain.
A month before graduation, I got a congratulatory letter from the CSM Dean, stating: "You have been nominated as a recipient of the Kappa Gamma Pi Honor Award. Each year students are nominated for who they are, what they do, and how well they do it. Your community service represents the leadership, faith and service of a Walking Woman (the CSM mascot). This award will be given on graduation day and one is meant to wear Kappa Gamma Pi honor cords."
I could not speak at first because I was not expecting anything greater or higher than my graduating with a higher grade that would enable me to further my nursing career and to practice with evidence-based practice.
I accepted the nomination, attended the induction and proudly wore my honor cords at graduation. But it didn't stop there. When I returned to my community, I served as one of the members of the parish pastoral council for four years, caring for the parish community and visiting the sick and the homebound. Currently, I'm serving as the vice chair for African Women Conference Religious in United States of America (AWCRUSA). In addition, I am serving as the treasurer of National Association of African Catholics in the United States (NAACUS). I am also involved in my congregation's USA mission leadership team as the second assistant to the Mission Superior for a two-year term. By the grace of God, I will be handing over this role to new leaders by the end of 2019. Furthermore, I also serve as a member on the border funding project for the Leadership Conference of Women Religious (LCWR), Region 12. The goal of the women religious is to protect, shelter and educate the immigrant and refugee children at the border and uphold social justice for all. In 2018, I was appointed for a three-year term as a team member for the Pastoral Council for the Archdiocese of Galveston-Houston.
I was shocked when I received a letter from the Kappa Gamma Pi National President asking me if I would be willing to serve on the National Board. Knowing that there are more people who have been very faithful, attending Kappa meetings and conventions, I had thought that during the voting I would not be appointed. However, I replied that I will do my best if my service is needed. Just as I was fished out for the nomination to Kappa in 2012, I was also fished out in 2018 as the Regent for the Plains region of Kappa Gamma Pi. When the appointment letter came, I was shocked, but as a student of CSM, we Walking Woman alumnae are to serve our community as leaders and uphold the dignity of women in education. My education at College of Saint Mary reinforced my commitment to servant leadership and social responsibility, to serve with all my heart and endeavor to understand and meet the needs of the people that I serve in a spirit of mutual respect, care, compassion, and addressing the concerns of our time and to bloom wherever I am planted.