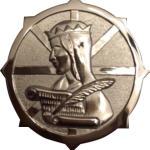 The Saint Catherine Medal for Student Achievement is an annual award for presentation at colleges and universities affiliated with Kappa Gamma Pi, the National Catholic College Graduate Honor Society.
The medal depicts the traditional patroness of Kappa Gamma Pi, Saint Catherine of Alexandria , virgin martyr (c 310), encircled by the spiked wheel of her legendary martyrdom and holding a quill and scroll, which symbolize learning and wisdom.
Bronze – $35.00
Gold-Plated – $40.00
Sterling Silver – $65.00
Gold Filled – $105.00
NOTE: SCMs can only be ordered by affiliate members. If you're an affiliate member, please login here to order them.