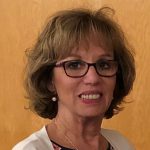 I am sincerely humbled to be writing my first message to you as the new Kappa National President. I was inducted into Kappa in 1990 and have had the privilege of being involved in varying capacities. I have served on the Kappa National Board as the I, II and III Vice President and now as your National President. Each position has been rewarding and having the privilege of meeting so many phenomenal Kappas has been such a blessing. As your new National President, I look forward to your help to address existing concerns within the organization, facilitate organizational growth, and achieve a fulfilling term.
The National Convention in Portland, Oregon, was a success. The experience was productive, inspiring and fun. Past President Katie Pease and Kappa Executive Secretary Jamie Asher (University of Holy Cross, LA, '05) did a phenomenal job running the business meeting and convention. Long Range Planning Committee Chair Pat Kubistal (Loyola University, IL, '59) shared a fact-finding and eye-opening presentation regarding declining membership and affiliates. Kappa started in 1926 as a vibrant and growing society. The Kappa Gamma Pi Key was adopted as the organization's official insignia in 1929. At that time, the total member count was 346 with 20 affiliated colleges. In 2006, the membership database had more than 47,000 members, with 1,778 dues-paying members and 141 affiliated colleges and universities. In 2019, the database has 59,000+ members, but only 964 dues-paying members and approximately 60 affiliates are active. Unfortunately, in the last 13 years, the number of dues-paying members has drastically declined and many of our affiliated institutions have closed, merged or no longer nominate graduates to Kappa.
At this point in time, national organizations are experiencing a downward trend in membership. Why? What makes Kappa different from other organizations? It is simple. Take a look at our mission statement that is posted on our website. When people ask me about Kappa my response is simple:
Kappa Gamma Pi is a Catholic honor society to which I was nominated and inducted by my university. Our motto is Faith and Service, which we pledge to continue throughout our lifetimes through leadership in church and secular affairs and community service.
As your National President, I am committed to the growth and sustainability of this organization. I highly recommend the book Bowling Alone by Robert Putnam. In the book Putnam explains why people no longer join groups or want to belong to organizations such as Kappa. I challenge each one of you to reach out to your alma mater and the National Office to explore ways you can help support our affiliates to seek nominations. Be sure to welcome our newest members of the 2019 graduate class. I challenge you to start a chapter in your area or meet with other Kappas.
Our III Vice President Alene Finn Griffin and the Regents have developed a vibrant plan of action to address the issues of declining members and chapters. Our previous National Treasurer Ed Hosmer presented an aggressive budget to sustain Kappa. At the Convention, an Ad Hoc Budget Committee was formed to evaluate the approved budget and we await their recommendations.
The National Board has heard your concerns and listened! Two major changes you will see in the near future concern the dues payment envelope and printed copies of the newsletter. The elimination of the envelope and the address label for this issue of the NEWS saved Kappa hundreds of dollars! Please note dues payers will receive four printed copies of the NEWS per year, with the exception of those who request only the electronic version.
Be sure to review this issue of the NEWS as it includes recaps of the Convention, including our Treasurer's report. A special thanks to Anne Dunlap-Kahren who has retired as our NEWS Editor after ten years. We thank her for her years of service and dedication and also welcome her to her new role as Recording Secretary. A special welcome to our new Editor Madison Denton. Madison brings enthusiasm and energy to her new role and we are fortunate to have her.
President Sue JarosI invite your comments, ideas and suggestions. Please feel free to contact me anytime.
In Faith and Service,
Susan (Sue) Smith Jaros
Lourdes University, Ohio, '90
Kappa Gamma Pi National President
president@kappagammapi.org