Each year since 1985, Kappa Gamma Pi has awarded one or more Cornaro Scholarships for Graduate Studies. Because eligibility is limited to Kappa Gamma Pi members, all of whom are honors graduates, the quality of the recipients is exceptional. The Cornaro Scholarship is competitive and is based on a number of criteria, specifically how the recipient's life reflects the Kappa Gamma Pi motto of Faith and Service. Recipients of the Cornaro Scholarship encompass the values of volunteer work, leadership experience, high academic standards and solid career aspirations. The scholarship program is supported by donations made by Kappa members and friends.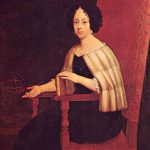 The Cornaro Scholarship derives its name from Elena Lucrezia Cornaro Piscopia, the first woman in the world to receive a university degree of any kind. Elena Cornaro, a member of a noble Venetian family, received the degree of Doctor of Philosophy in 1678 from the University of Padua, Italy. It was an accomplishment unparalleled for the time.
As the National Catholic College Graduate Honor Society, Kappa Gamma Pi cherishes the accomplishments of Elena Lucrezia Cornaro Piscopia and is proud to have named our Scholarship for Graduate Studies in her honor.
Every dues paying member of Kappa Gamma Pi is eligible to apply for the Cornaro Scholarship, which provides funding towards the cost of graduate or professional school. The deadline for receiving applications is June 1st and scholarships are awarded each year in July.
Please see the FAQs for the scholarship. To be eligible for the scholarship, one must be a current dues paying member of Kappa Gamma Pi and must have already been accepted into an accredited graduate or professional program.
We commemorate Elena Lucrezia Cornaro Piscopia as a Kappa before our time. She is the Seventeenth Century Model for Today's Kappa.
Click below for the Cornaro Scholarship application. 
Without the donations from these generous donors, the Cornaro Scholarship Fund would not exist.
THANK YOU for your contributions!