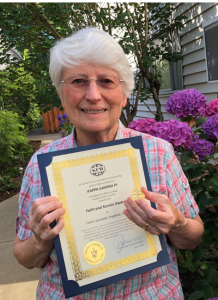 Many thanks to Kappa Carole Strawn, SNJM (Marylhurst University, OR, '96), Portland, OR, for her excellent write-up of the achievements of her colleague Lucinda Peightal, SNJM.
At each biennial National Convention, Kappa Gamma Pi presents the Faith and Service Award to an outstanding non-Kappa who exemplifies leadership in local or national church or secular affairs.
The recipient of the Faith and Service Award for 2019 is Lucinda Peightal, SNJM. Sister Lucinda was unable to attend the convention banquet on June 22, so Sister Carole accepted the award on her behalf. In her remarks about Sister Lucinda, Sister Carole noted:
"War and repression have forced countless individuals worldwide to leave their homelands to seek asylum and safety elsewhere. These circumstances challenge the people of the world to 'Welcome the Stranger' in their midst. Sister Lucinda not only welcomes the strangers in her midst but embraces them.
"After a long career in elementary education as a teacher and administrator, Sister Lucinda applied her skills as an educator to another classroom, a welcoming space for refugees. As a longtime activist for peace and justice, she recognized the need of recent immigrants for language and math skills."
For over a decade Sister Lucinda worked as an ESL instructor at Portland Community College (PCC). After her retirement from PCC, she continued as an instructor on a volunteer basis.
"It is not unusual for Sister Lucinda to be attuned to current needs. Over the decades she has been an energetic member of the Justice Network, both globally and locally, of her religious community, the Congregation of the Sisters of the Holy Names of Jesus and Mary. For many years, she has also been a member of the Metropolitan Alliance for the Common Good (MACG), a nonpartisan, proactive organization dedicated to making the Portland Metro area a better place for all to live and thrive. Her particular interests with MACG have been issues of affordable health care for all and justice in the workplace.
"In the past with women of other religious communities in the area she helped to establish the Women's Intercommunity Aids Resource. She has lobbied on issues of earth stewardship and the trafficking of women and children, two of the corporate stands adopted by the Sisters of the Holy Names.
"With the support of a local parish that lent her space in the parish rectory, she met with refugees for language training and cultural readiness assistance. As more refugees came, Sister Lucinda recruited and trained volunteers from the parish to work with the new arrivals on language and cultural skills.
Sister Lucinda Peightal"Most recently, she and other Sisters and Associates of the Holy Names Sisters have been involved in the creation of a house for immigrant women, the dream being to establish a community with and for refugee women." It was while visiting various parishes they gained a deeper understanding of the community's needs in Portland. In particular, they wanted to offer housing, even possibly one of their convents. Eventually, an option was found through their connection with another parish in Portland. The parish owned a house on the same block as the church; when it became available, Mariposa Ministries was founded in 2017 with support from the Sisters of the Holy Names to provide a home of caring support for up to four women in transition.
"Sister Lucinda now volunteers there. The coordinator of the house notes that not knowing English is such a huge barrier to the women in finding jobs and even getting settled in their new country. Sister Lucinda's skills as a teacher are invaluable for a consistent, sure plan of growth for each woman's language and math skills.
"Sister Lucinda is a woman who edifies Gospel values, the heritage of Catholic social teaching, and the values of justice and social responsibility of her religious community. She is a woman of the Beatitudes, living Jesus' call: 'Blessed are those who hunger and thirst for justice…' She perceives a need and is moved to do something about it."
Sister Lucinda wrote to the National Office to express her gratitude to Kappa for awarding her the 2019 Faith and Service Award. The honorarium allowed her to make gifts to MACG and the Interfaith Movement for Immigrant Justice. She said that supporting these two organizations brings her much happiness.