Meet Our 2019 Cornaro Scholar
Sarah Knapp Cornaro Scholar 2019II Vice President Betsy Shortle, Chair of the Cornaro Scholarship Committee, announced the winner of the 2019 KGP scholarship competition at the Convention banquet on June 22. The prestigious Cornaro Scholarship—open only to Kappa members—is used for graduate expenses at any accredited university.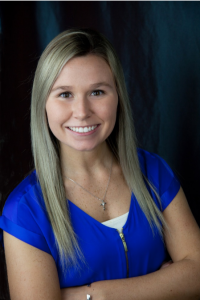 Our Cornaro Scholar for 2019 is Sarah Kathleen Knapp (Madonna University, MI, '19). Sarah is from Livonia, Michigan, where she received her undergraduate degree in biology from Madonna University and will pursue a Master of Public Health from the University of Michigan. Her desire to earn this degree is to help others develop behaviors to prevent diseases and improve their quality of life. While she worked in a local hospital emergency department, she learned firsthand about flaws within the healthcare system. Her goal is to take skills she will obtain from this Master's program to improve the lives of the vulnerable. She is committed to using her leadership skills, servant heart and education" to graft solutions and to better the lives of populations suffering from health disparities." She also desires to collaborate with healthcare providers in interprofessional education settings to develop a more holistic approach to treating all patients.
About her volunteer work and leadership experience, Sarah wrote in her Cornaro application:
"Through my roles as president and founder of the Biological and Health Sciences Club and vice president of the National Society of Collegiate Scholars, I have coordinated a variety of service projects with the Felician Sister Ministries including St. Joseph Mercy Care Center, the former Ladywood High School where I graduated, and the Montessori Center of Our Lady. Growing up being taught by Felician Sisters, and having the opportunity to attend school in Felician-sponsored ministries, it is important to give back to the Sisters and help inspire other students to do the same.
"Since freshman year, I have been involved in Ford Community Corps (FCC), which supports student initiatives aimed at improving quality of life within the community by pairing students with local nonprofit organizations. I lead a team in implementing our program, Team Science, for the afterschool programs within St. Vincent Sarah Fischer (SVSF) in Detroit. At SVSF, I teach weekly supplemental science lessons to elementary-aged children from underserved communities who are victims of the area's growing education gap.
"For four years, I have volunteered as a CYO softball coach for St. Damian (my former parish and grade school) and for the Livonia Junior Athletic League (LJAL), which was the first fastpitch softball team I played for. It is my goal as a coach to teach developing athletes in my community the fundamentals of softball and the importance of good sportsmanship, teamwork and a strong work ethic. Coaching demands leadership, discipline and accountability; and I work to provide an example of that to my athletes."
About her career aspirations, Sarah is pursuing a Master of Public Health to "obtain the dynamic skillset needed to analyze socioeconomic health behaviors and develop health interventions to prevent disease and improve quality of life for vulnerable populations. This drive to improve the health of the vulnerable stems from my strong Catholic upbringing and the values of the faith instilled within me.
"Through my work in my local hospital's emergency department, I witnessed the structural flaws within our healthcare system and the negative effects of our policies, inadequate patient and interprofessional education, and insufficient resources on the health of vulnerable populations within my community. It was this acquired knowledge and exposure to healthcare, interprofessional networking and patient interaction that showed me that clinical treatment wasn't enough. As I encountered patients being readmitted to the emergency department with the same chief complaints, I began to question the bigger picture. The patients of vulnerable populations are living in a continuous cycle of their environment; failing to receive the right care and support…The uncertainty of clinical medicine is not fully satisfying as I look to how can we prevent these issues in the first place. I do not want to see patients on a treatment basis or simply manage their disease, but rather assess their lifestyles and behaviors to implement resources that manage the social determinants of health."